TRABURET STEP STOOL (FIRST EDITION)
As a specialty, we are launching TRABURET in a numbered edition (FIRST EDITION). The first 500 units will be manufactured with a unique number from one to 500. The numbered edition of TRABURET is sold on a first come, first served basis.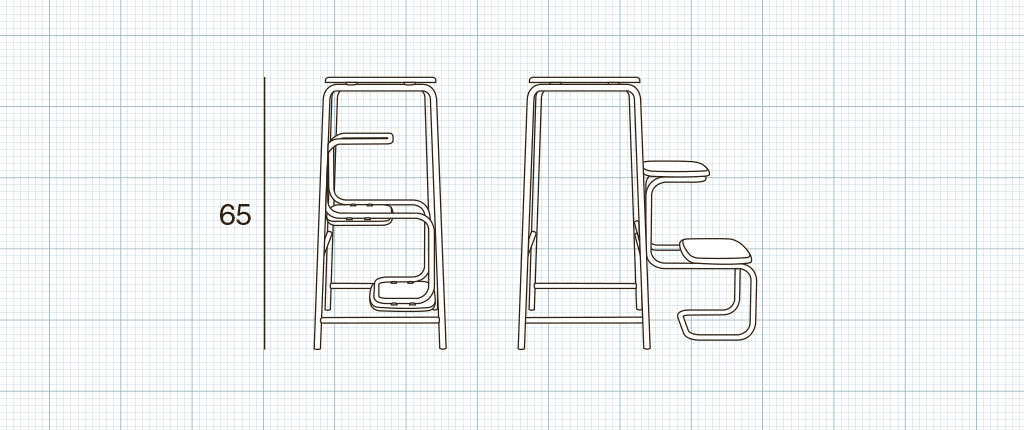 Materials
Solid oak / steel
Dimensions (W x D x H)
38 x 32 x 65 cm.
Production
Manufactured in Europe
Production time
2 weeks + delivery
Anders Nørgaard was inspired by the well-known step ladder/step stool from the 1960s for his creation of this multifunctional piece of furniture that combines Nordic minimalism and family-friendly practice. The slim steel frame is made on state-of-the-art steel processing machines in order to ensure that the step function feels comfortable and is suitable for everyday use. The seat and steps are made of solid oak and the soft shapes make the product look warm and add a modern Nordic feel.
The design of TRABURET is clever, resulting in a unique artistic narrative due to the graphic effect created between the ladder and stool, which places the product in a category of its own. The height of 65cm makes TRABURET ideal around the kitchen island or as an extra seating capacity, while the step function is convenient in various situations with vertical challenges.
Max. load is 100kg.